Thinking of traveling and attending SIGGRAPH Asia 2022 in-person this December in Daegu? YES, you should! It's about time that we start resuming international travels. Bookmark this page for the latest information regarding travel requirements and Covid-19 situation in South Korea.
Click here to access all the questions you may have regarding the event, Daegu, Registration & Ticketing, Visa Applications, Travel & Safety, and the Venue.
Entry to Korea
Click here to view the step-by-step process from pre-arrival to your stay in Daegu.
Here are the key steps listed below for your easy reference as well (information accurate as of 8 August 2022):
Apply for the Korea Electronic Travel Authorization (K-ETA) here: Link
– You are strongly advised to apply for the K-ETA at least one week before your intended departure
– This only applies to 104 countries as of 1 July 2022
– You may check if K-ETA/VISA applies for your country of departure here: Link
Apply for Q-Code here: Link
– QR code must be saved/printed upon completion of the form to be shown to Korean Immigration Officials
Book an on-arrival PCR Test within 1 day of arrival (effective from 25 July 2022)
– It is recommended to do this test at the airport. Make your booking here: Link
– The test centres prioritize Visitors with appointments
Take a pre-departure Test
– Rapid Antigen Test (RAT) / Antigen Rapid Test (ART) at a hospital or clinic within 1 day of departure (Important to note: All forms of self-administered test such as remote supervised ART or tele-ART are not valid.);

OR


– PCR test to be taken within 2 days of departure
About Daegu
Daegu, South Korea is the birthplace of Samsung, a world-renowned multinational conglomerate. With the designation of Daegu R&D Special Zone, Daegu City is emerging as a hub for R&D and technology and a key pillar of the inland high-tech science belt which links Daejeon, Gwangju, and Daegu.
Attendees can easily get to Daegu via three airports in South Korea: Daegu International Airport, Gimhae International Airport, and Incheon International Airport. Most international flights will land at Incheon International Airport, Seoul, and there are multiple routes to get to SIGGRAPH Asia 2022 in Daegu (Train and/or car transfer).
Here are the locations of the 3 airports: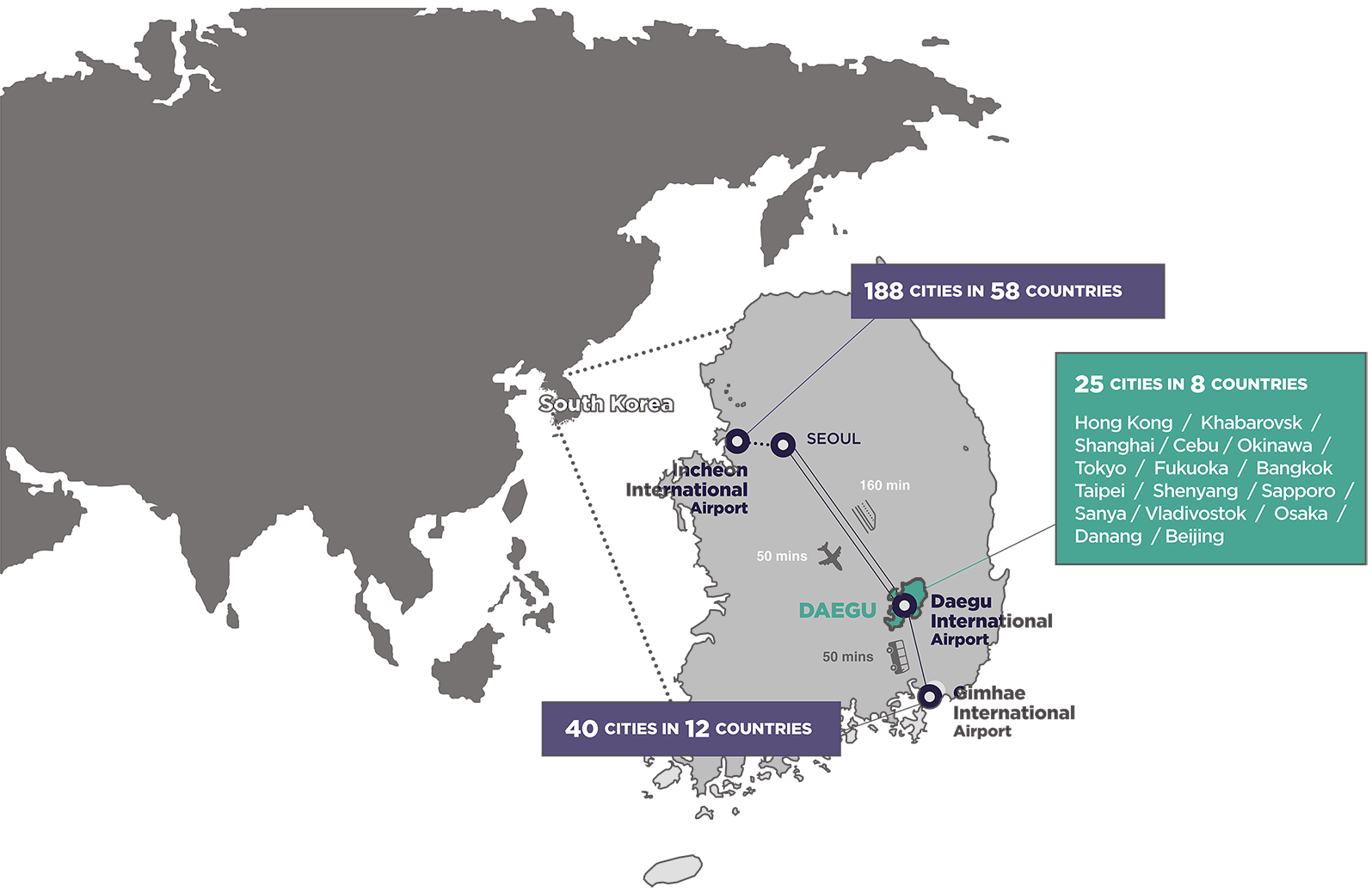 Click to view enlarged image
Here's a map of Daegu with EXCO (event venue), Daegu International Airport, and key attractions at-a-glance.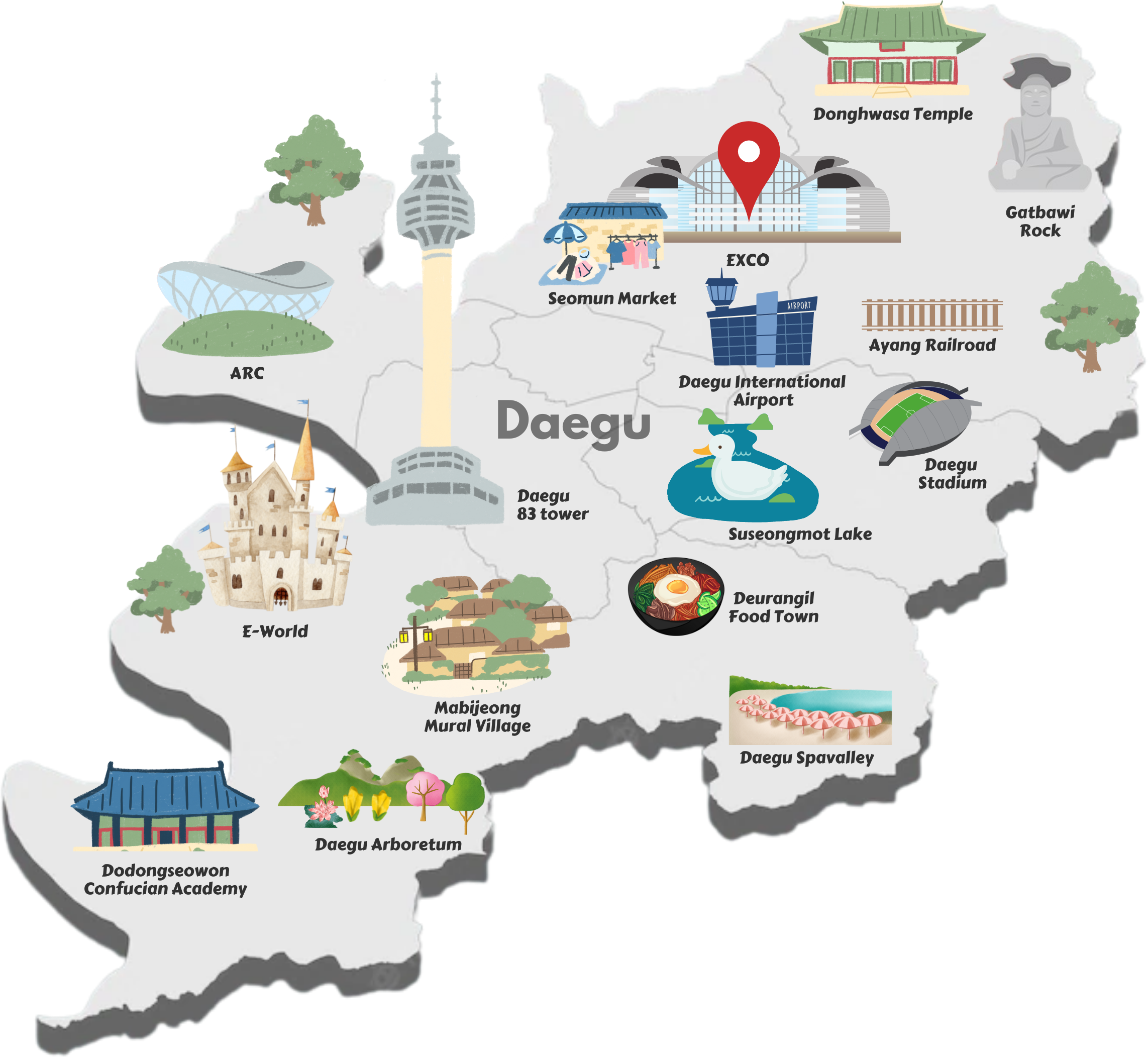 Click to view enlarged image
Get more travel handy information about Daegu here.
Covid-19 Updates
Prior to booking your trip to Daegu, please ensure that you check on the latest Covid-19 travel advisory here. As the pandemic stabilizes in South Korea, the Korean government is moving closer to post-pandemic by lifting almost all of its Covid-19 social distancing rules except mask-wearing which is still compulsory.
Over 86% of South Korean population has been fully vaccinated which brings the country to be among the top 7thin terms of vaccination progress in the OECD list of countries. View the latest vaccination progress in South Korea here.
We look forward to welcoming you to SIGGRAPH Asia 2022 in a safe and inviting environment.
Onsite Safety & Hygiene Measures
In order to reduce the risk of infection during the event, we ask that all visitors be aware and abide to the following onsite safety and hygiene measures implemented:
Masks

All attendees must wear a mask at all times in the venue

Temperature Screening

Temperature checks will be conducted at venue entrances.

Awareness Campaign

Reminders of the COVID-19 onsite safety & hygiene measures will be communicated to all attendees before and during the event through the official event website, emails and onsite signages.

Be Responsible

All SIGGRAPH Asia attendees are encouraged to do their own daily health checks before visiting Tokyo International Forum.

Disinfection

Hand sanitizers will be placed at entrances. Equipment and shared items will be disinfected frequently.

Social Distancing

Always maintain a 1m safe distance between individuals